In my travels, as an antique dealer and vintage seller, I handle a lot of fine bone china and porcelain teacups. Everyone has their favorites, and each pottery has a story to tell. One of my personal favorites is Paragon China of Longton, Stoke-on-Trent. I like to find Paragon teacups because they often have a silky feel, attractive bold floral patterns, and a royal association through their warrants. Stoke-on-Trent was an area in England rich with great potteries, and great pottery families. Many of the potteries are related by blood, in the sense that relations and associates would go on to found their own line.    
For example Paragon China, which operated under that name from 1919 to 1960, started out as The Star China Company and was founded by Hugh Irving and Herbert Aynsley. Herbert was the great grandson of the founder of Aynsley China, another distinctive Stoke-on-Trent pottery. Aynsley retired in 1919, and that's when the company became Paragon. In 1960 it disappeared into the Doulton Group. However between 1919 and 1960 the company had quite the success. They were big exporters, but also they had fans at home, namely the British Royal Family.    
In Britain a Royal Warrant of Appointment is given to businesses that supply the Royal Family, and enables the business to advertise the fact, giving a company a great deal of prestige, and possibly quite a few sales. In Paragon's case they received quite a number of Royal Warrants, and even were able to boast of two at once! Their commission for the Royal Family was in 1926, for the then Duchess of York for her young Daughter Princess Elizabeth's nursery. Fans of The Crown or simply of the Royal Family will know that this Princess is the current Queen Elizabeth II and that the Duchess of York was the Queen Mum (and a queen in her own right). The pattern that Paragon devised was called "Two for Joy" and referred to the saying "One for sorrow, two for joy" about seeing magpies at the princess's christening. The second commission followed in 1930 for the birth of Princess Margaret.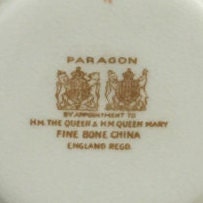 In 1933 Queen Mary, Princess Elizabeth and Margaret's grandmother, issued the first Royal Warrant to the pottery. In 1937 another warrant was added for the coronation of King George VI and Queen Elizabeth (previously the Duchess of York), and then Queen Elizabeth grants another in 1938. At this point it appears that Paragon was free to use both the warrant of Queen Mary and of Queen Elizabeth. In 1953, for the coronation of the present Queen Elizabeth, they received their fourth warrant. Since Queen Mary lived right up to 1953 I presume that Paragon China pieces marked with the double warrant featured her warrant and the warrant of Queen Elizabeth, the Queen Mother. Later they may have been both Queen Elizabeths, but I'm not sure.    
Collectors of Paragon China are particularly fond of the pieces with the double royal warrant, and in good condition these will go for a premium. When you handle one of these pieces of fine bone china with their striking floral designs, incredibly smooth finish, and elegant shape, you can certainly see why they were favorites with the Royals. So for your next vintage tea party why not choose the English bone china favored by the British Royal Family ?