That moment that something grabs you, holds on to you, and in some way transforms your life, is not always as bright in your memory as you would think it should be. But I do remember that transformative moment when old dishes turned from mere dusty utilitarian objects into a glimpse of something more evocative, and became for me a sort of time travel. I was at a jumble sale (which is what they call yard sales or garage sales in England), a young American living in Bristol, and I picked up an old blue and white plate from a small stack. I had already started selling stuff with a friend, picking through thrift stores and jumble sales, but it was just in its infancy, and I knew next to nothing at all about antiques, except that I lived in England, and history was all around me. My friend had me on the search for Clarice Cliff and Carltonware (both favorites of mine to this day), but these plates were different, older.
I turned the plate over to look at the mark on the back, my friend Jo, had taught me that right off. Immediately I knew this mark was different than other marks I had seen so far. It looked older, and a little mysterious and cryptic, but in a way I found very attractive. In fact everything about the plates looked old, but I was a novice and unfamiliar with them. They were a lucky find, and in more than one way. If they hadn't been so clearly marked, I would have had trouble researching them, and might have given up too early, but also once I did decipher that cryptic code on the back of six humble little blue and white side plates, I was to learn that that the stack of plates I bought for fifty pence, were over 200 years old. I changed 50p into sixty pounds in a matter of days. I became an antiques and collectibles picker. I worked at it for a year or two before I moved back to the States, and once again changed careers.
Back in the eighties, which is when I first was a picker, you couldn't just google something. You had to find it the hard way, with books and a magnifying glass, and maybe a visit to the friendly local expert, willing to share knowledge (and not lead you astray!). This year, about thirty years later, I have become a picker again. I have my own little Etsy vintage shop. Back in May I walked into a flea market, I had never lost the love naturally, and the bug once again bit me. I was sifting through a stack of old china, all marked cheaply, and all of it dusty and some of it most definitely chipped, when I picked up the most gorgeous Rouge Royale Carltonware teacup and saucer for four dollars.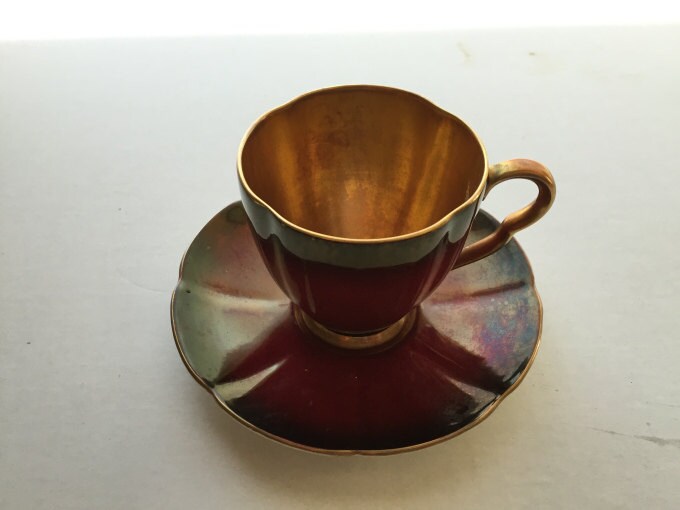 I love Carltonware, and over the years have picked up a few pieces here and there for my private collection. And that is exactly where this beauty ended up. Next week I was drawn back to the flea market, and there was another piece of Carltonware! That was it. I started treasure hunting on the spot, sorting and picking, blowing off the dust to espy the treasure beneath.
The world of antiques and vintage treasures opened right back up to me. And yes, there is the challenge and joy of the discovery, coupled with the highly satisfying thrill of making a few dollars when one does well, but I can assure you that it's hard work. Each item that I list I pick carefully, wash tenderly, and then research tirelessly, in order to arrive at its story and value. I have decided that the stories are worth telling, and so here I am – in this blog I shall attempt to chronicle all those little things, unloved and lost, and tell their stories so that they once again, maybe loved, and never again lost.