Contrary to the stereotypes not every British person is an expert on the art of tea making – though almost every one of them has a couple hard and fast rules: warm the pot first, and always use boiling water. In my fifteen odd years of living in England I drank weak tea, overly sweet milky tea, and tea that was just from a teabag in a mug, the inside of the ceramic turned brown from the tannins in the tea leaves. Yet, when most Americans think of tea, they imagine a friendly warm brown teapot, round in shape, with a perky little lid like a tam with a pompom on it, and a graceful spout. This pot, known everywhere as the Brown Betty, is, indeed, the quintessential teapot, beloved of Queens, and favored by true tea aficionados everywhere.
After moving back to the United States, I resumed my coffee drinking – mostly out of a misplaced sense of British snobbery about the teabags available in the US. Trust me, the only one that is really good is PG Tips, imported from England. Recently, however, tea has reentered my life as one of the household can no longer stomach coffee. So, being a vintage dealer, we scoured the flea markets and second hand stores to find a nice big Brown Betty. It's a six cup version, slightly less round than the classic version, with some lovely stripping at the top. Later on, I discovered a one cup tea pot, again with stripping for decoration, but this time in the classic round shape, and marked with an A like a tent on the bottom. I admit, I find the really round ones far more aesthetically pleasing, and as I learned about the excellence of Brown Betty teapots, I suspect it also brews a better cup of tea. I also had found a genuine vintage Brown Betty.
Brown Betty is still a design made in England by Cauldon Potteries with an official Union Jack Made in Britain sticker, and they are made in Staffordshire, England - where it all began for the Brown Betty, but I do not believe they are the original pottery to make the Brown Betty, even though they imply as much on their web page. Their pottery does go back to Stoke-on-Trent in Staffordshire to at least 1859, and potteries do have a tendency to lay claim to very long lineage, but according to The Potteries web site, which features the history of Stoke-on-Trent, including an extensive set of pages on the potteries, and their marks, of the district, the Brown Betty was made famous by Alcock, Lindley, and Bloore of Hanley, Stoke-on-Trent, and many fine examples of vintage Brown Betty teapots can be found with their distinctive back stamp, a capitol A with a L and a B fit over and under the bar.
Whichever particular Staffordshire pottery really invented the Brown Betty, one thing is sure, and that is that they originated from that district. True Brown Betty teapots are made from the red clay that was found in Stoke-on-Trent, and along with their distinctive shape where glazed with the lovely dark brown Rockingham glaze. The red clay used in the Brown Betty was first used since around 1695, according to Collecting and Using Brown Betty Teapots, for coffee pots, and Alcock, Lindley, and Bloore made coffee pots out of the material. Further evidence for them being the inventor of the Brown Betty is that the Rockingham glaze was created by Swinnerton Pottery out of iron and magnesium. Swinnerton Pottery was actually started by the partners of Alcock, Lindley, and Bloore!
So what makes the Brown Betty so great? No one knows empirically, but it is generally agreed that the wide round shape allows the tea leaves to breathe freely as they swirl around the pot, and that the red clay, which retains heat better than other clays, keeps it all nice and toasty at the right temperature. All I know is that when I brew a cuppa, I prefer my Brown Betty to any other teapot.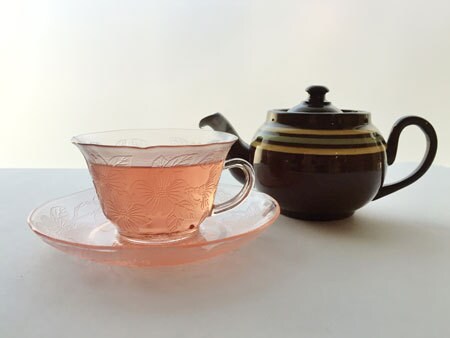 Berry White Tea brewed in my Brown Betty teapot from Alcock, Lindley & Bloore of Stoke-on-Trent, served in a MacBeth Evans Dogwood Depression Glass teacup