Just like in Mr. Selfridge, Raphael Weill & Co. Department Store in San Francisco, better known to the locals as "The White House", was a destination. This time, instead of an American making good in London, it was a Frenchman making good in San Francisco. Raphael Weill, a French Jew, came to America in 1855, where he became a partner in a large dry goods store. By 1885 he owned the entire company. After the original building was destroyed in the San Francisco Earthquake the White House was rebuilt at 259 Grant.
Mr. Weill was a classy man, and the store reflected that. Not only were his goods of superior quality, and many imported from France, but he closed shop at 6:00 pm, and for vacations, and additionally offered his employees paid sick time. He was one of the earliest employers to offer such amenities to his workers. After the 1906 earthquake he had 5000 outfits distributed people uprooted by the catastrophe. In World War I he set aside half a year's salary to the 1500 employees drafted to fight in that terrible conflict.
But of course what really mattered to the San Franciscans of the day was the offerings and the ambiance:
From the Daily Alta, California, December 7, 1870
Messrs. J. W. Davidson's & Co.'s magnificent dry goods establishment, The White House, corner of Kearny and Post streets, was thrown open for the inspection of the public last evening. The building was brilliantly illuminated and densely crowded with ladies and gentlemen from the moment the doors were opened until they were closed. The streets in front were also thronged with spectators. The display of goods was most gorgeous, and many a lady went away crazy to possess some of the nice things seen.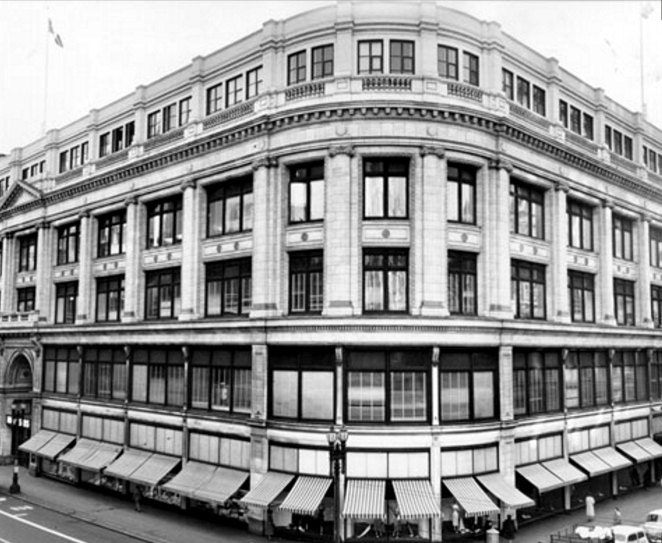 The new Beaux-Art building, completed in 1909, was designed by Albert Pissus, an early American adherent to the movement. It was a landmark until the store closed in the sixties. Today it houses a Banana Republic.All of this was revealed to me by a simple pottery mark on the bottom of a simple but elegant demitasse I picked up one day. Anyone that collects china, either to keep, buy, or sell, becomes familiar with the act of turning over the piece to read that tell-tale mark on the bottom. In this case it said "Limoges, France" – which shouted quality. But it was the other mark that intrigued me more, and led me to learn about Mr. Weill and his White House, particularly poignant as I had just finished binge watching Mr. Selfridge! Now when I look at this little demitasse with its lovely ivory color and gold trim, I can picture the Parisian Tea Room in the White House, with well-dressed ladies sipping from elegant Limoges china.